From Elizabeth
Have you ever seen a horse racing the wind, and felt that exhilarating sense of Freedom, as if you can fly without wings over the world just like in a dream. This moment, this feeling, is what I wish to capture and communicate through my art with a balance of style and subject matter.
I focus on Horses because they symbolize Freedom and all that is good. They are powerful, yet humble, strong, yet gentle. They are stoic, patient, and kind, as they honor mankind with loyalty, grace, and dignity.
My art is not just about horses, it is about Strength of Spirit.
I grew up on a lake in East Texas surrounded by water, woods, and wildlife. I was especially fond of the raccoons who were my best friends. When I was thirteen I sold my childhood treasures at a garage sale and seventy-five dollars later I had the horse of my dreams. He was a swirling mass of mane and tail, young spirited and half wild. I always rode bareback, and because he had a habit of bucking while running full speed through the woods, I frequently found myself on the ground or hanging from a tree. I could have used a saddle but I liked the freedom and spontaneity of being able to run out the back door at a moment's notice, jump on the horse and fly away. Today I paint with this same kind of fearless abandon. I trust myself and never hold back.

We control our own destiny whether we take responsibility for it or not. Wise choices often take courage. My dream is that I will always meet life's challenges with the same freedom, integrity, and strength of spirit that is reflected in my paintings.

Elizabeth King Hale has a Bachelor of Fine Arts degree from the University of Texas
The Kinghale Gallery was established in Sarasota Florida in 2001 and the Horses have graced walls all over the world ever since.
The Kinghale Gallery is now located in Historic Downtown Tarpon Springs Florida where You can meet the Horses and Artist in person.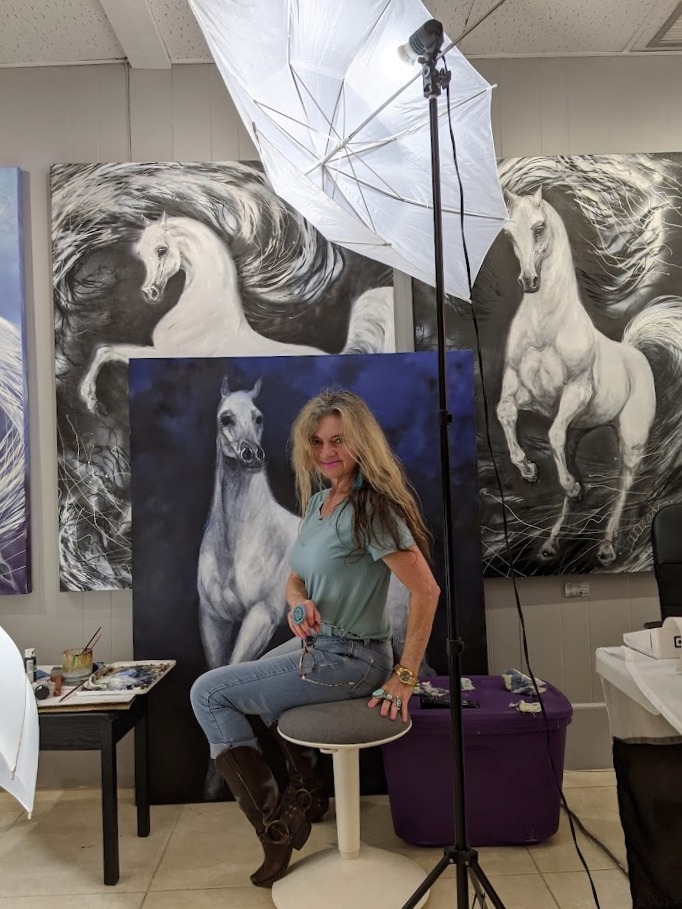 We have closed the Tarpon Springs Gallery
We are now Online Exclusively.